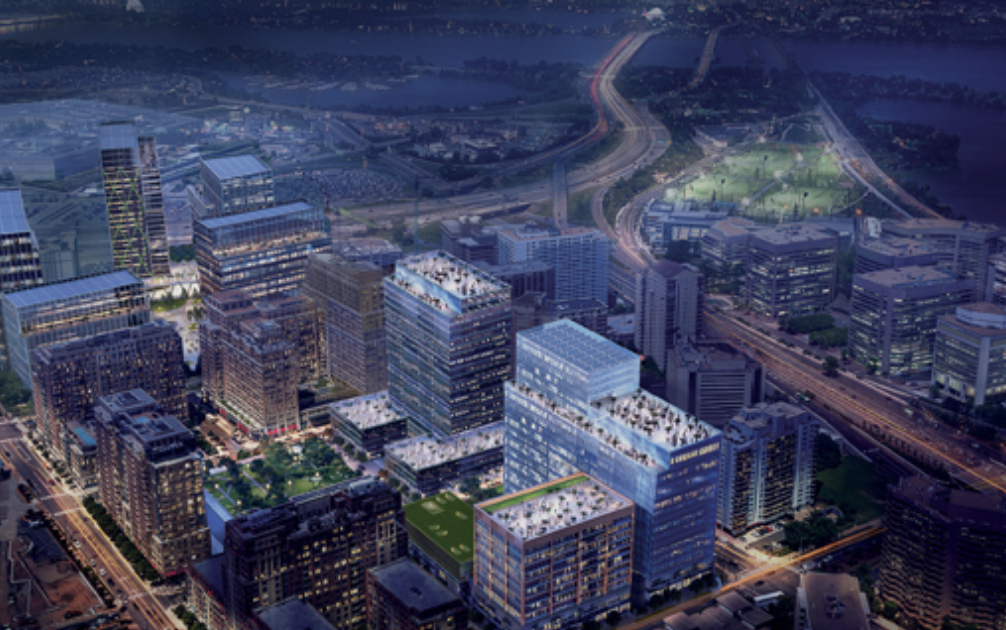 Amazon will create more than 25,000 high paying jobs over 12 year
Represents unique multi-jurisdictional partnership and new regional approach to economic development
Virginia Tech will build new Innovation Campus
Proposed partnership includes significant investments in housing and transportation
ARLINGTON and ALEXANDRIA, Va.- Amazon.com, Inc, announced this morning that it has chosen Arlington County to establish a major new headquarters. Arlington and the City of Alexandria, after working together in National Landing, a newly branded neighborhood encompassing parts of Pentagon City and Crystal City in Arlington and Potomac Yard in Alexandria. The Commonwealth's announcement also includes news of a new talent in National Landing and beyond.
Amazon will invest approximately $2.5 billion to establish a new headquarters National Landing, which will create more than 25,000 high paying jobs and occupy 4 million square feet of energy-efficient office space with the opportunity to expand to 8 million square feet over the next 12 years. The national Landing site, one recognized for having the most highly-educated workforce in the nation and is home to growing number of companies and agencies contributing to the metro area's reputation as a technology hub of the East Coast. National Landing, as the name suggests, is situated adjacent to Reagan National Airport and across the Potomac River form Washington, D.C.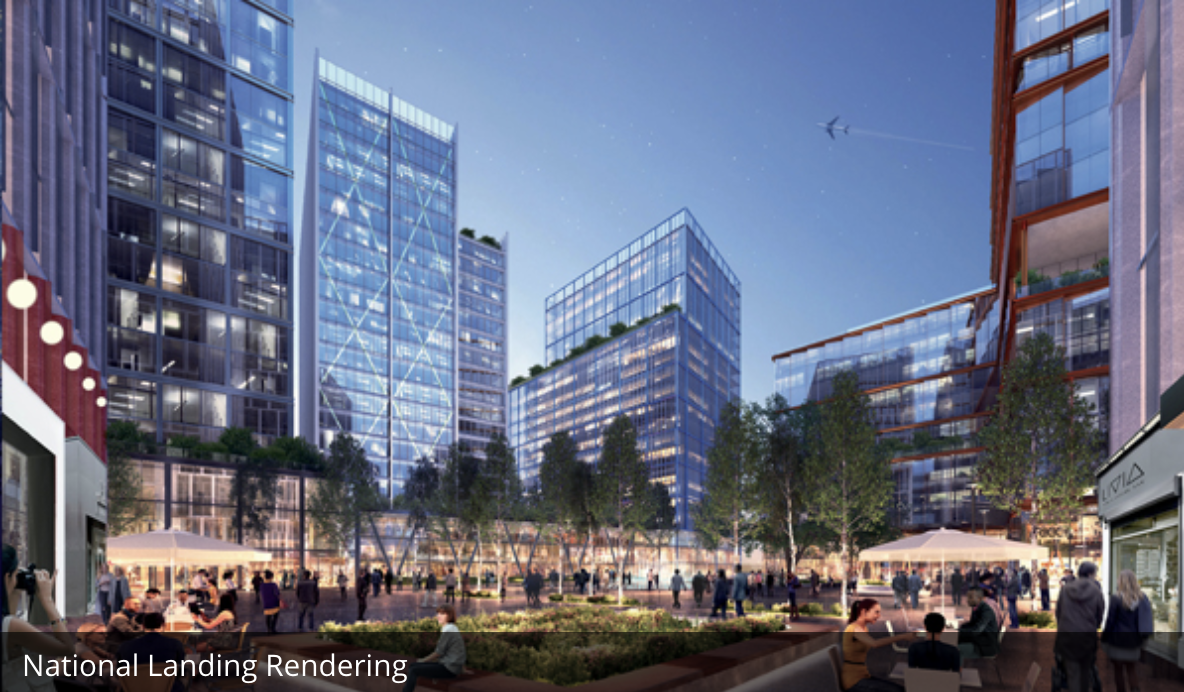 Investments in the Community
K-12 and Higher Education: As part of the Commonwealth's increased investment in the tech-talent pipeline, Arlington and Alexandria public schools will have access to new resources related to computer science education, to be made available statewide. They include: ongoing professional development for current and future teachers; high-quality curriculum and related resources; summer and after-school programming for students; and meaningful career exposure and work-based learning opportunities in high-demand fields. George Mason University's Arlington campus will also grow, taking advantage of new performance-based investments for new master's degree programs in computer science and related fields.
Transportation: A review of available transportation services, facilities and associated capacity indicate that regional and local transit systems have significant unused capacity, even during peak travel periods. As a very transit-focused employer, Amazon is expected to help fill that existing capacity, with most employees utilizing public transit, walking, biking or carpooling each day.
To manage this planned growth, Arlington County and the City of Alexandria are investing $570 million in transportation projects, including rail connections, transit facilities, multi-modal streets and transportation technology serving the site, all of which were planned as part of Board-and Council-approved long-term Capital Improvement Plans. Arlington and Alexandria are also actively pursuing additional funding opportunities to advance investment in this corridor.
Housing: Amazon's choice to locate in National Landing comes as the region is intensifying its efforts to increase housing capacity and making more investments in affordable housing. Arlington and Alexandria already have strong existing commitments to funding and supporting efforts to create, protect and preserve affordable and workforce housing. As part of this project announcement, both communities will fund affordable housing, workforce housing and public infrastructure, bolstered by revenues generated from Amazon's new presence in their communities. Combines, the communities project investment of at least $150 million over the next decade, resulting in the creation and preservation of 2000 to 2400 affordable and workforce units in and around the Crystal City, Pentagon City and Columbia Pike areas and throughout Alexandria.

Courtesy by
https://newsroom.arlingtonva.us/release/amazon/;
https://www.arlingtonva.us/amazon/